Free Shipping on orders over £25!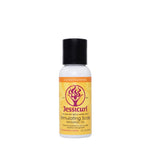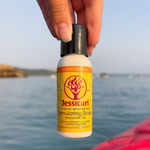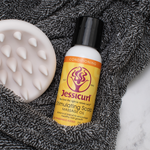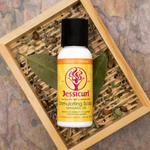 Stimulating Scalp Massage Oil
Botanical blend to encourage healthy hair growth
Regular Price

£14.00

Sale Price

£14.00

Regular Price

£0.00

Unit Price

per
Tax included.
This is a lovely blend of vitamin and antioxidant rich oils, herbs and essential oils. Each contain an ingredient that is known for aiding in scalp and hair health and has scalp stimulating properties. While it won't re-grow hair, it can promote a healthy scalp which encourages hair follicle growth and will aide in the reduction of hair loss. The essential oils included will impart a lovely tingling sensation on your scalp.
Apply to scalp and massage for 10-15 minutes. To turn it into a hot oil treatment, use with heat. Leave in for 30-60 minutes, then wash out. If product solidifies in cold weather, stand bottle in a dish of hot water for 3-5 minutes and shake well.
No Fragrance Added

INGREDIENTS: Cocos Nucifera (Coconut) Oil, Persea Gratissima (Avocado) Oil, Olea Europaea (Olive) Fruit Oil, Mentha Piperita (Peppermint) Oil, Eucalyptus Globulus (Eucalyptus) Oil, Rosemarinus Officinalis (Rosemary) Oil, Lavandula Officinalis (Lavender) Flower Oil, Juniperus Virginiana (Cedarwood) Oil, Salvia Sclarea (Clary Sage) Oil, Equisetum Arvense (Horsetail) Extract, Mentha Piperita (Peppermint) Leaf Extract, Rosmarinus Officinalis (Rosemary) Flower/Leaf/Stem Extract, Laurus Nobilis (Bay Laurel) Leaf Extract, Ocimum Basilicum (Basil) Leaf Extract, Urtica Dioica (Nettle) Leaf Extract, Arctium Lappa (Burdock) Root Extract, Althea Officinalis (Marshmallow) Root Extract, Origanum Vulgare (Oregano) Leaf Extract, Cymbopogon Flexuosus (Lemongrass) Extract, Thymus Vulgaris (Thyme) Leaf Extract, Salvia Officinalis (Sage) Leaf Extract, Cinnamal, Citral, Eugenol, Geraniol, Citronellol, Limonene, Linalool

Base Blend of Coconut, Avocado, & Olive Oil
Hints of Refreshing Peppermint, Eucalyptus, & Rosemary
Stimulates the Scalp to Encourage Growth
Great Heat or Steam Treatment
Even Refreshes Beard Hair
Base Blend of Oils
Coconut Oil
Avocado Oil
Olive Oil
Herbal Blend for Hair Health
Horsetail Extract
Peppermint Leaf Extract
Rosemary Flower/ Stem/ Leaf Extract
Bay Laurel Leaf Extract
Basil Leaf Extract
Nettle Leaf Extract
Burdock Root Extract
Marshmallow Root Extract
Oregano Leaf Extract
Lemongrass Extract
Thyme Leaf Extract
Sage Leaf Extract
Scalp & Hair Health Oils
Peppermint Oil
Eucalyptus Oil
Rosemary Oil
Lavender Oil
Cedarwood Oil
Clary Sage Oil
What are these ingredients known to do for hair?
Healthy Hair Starts with a Healthy Scalp
Collection for Minimal Product Reapplication
Deep Conditioning for Those with Dryer Hair, Thicker Curl Patterns